Plastic and rust-resistant tanks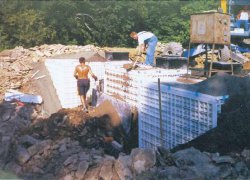 Purpose
Products of the Company include different types of plastic and rust-resistant tanks that have multiple utilization as water reservoirs, sludge containers for the operation of wastewater treatment plants, they can be fitted with various mechanical equipment so that they be used as septic tanks, measuring objects, valve chambers, pump sumps and the like.
Tanks are used for captation of water, water solutions, slurries, and the like for any purpose. They can be used in food-stuff industry since they comply with severe standards of health use.

Advantages
Tanks are supplied as a ready-made product including mechanical equipment: Embedding of the tanks needs only groundwork.

Structure Description
NP plastic tanks are made of 20 mm polypropylene plate. Four sizes are used as standard supplies. If required the dimensions can be arbitrary changed and a customer is offered plastic tanks customized as to the size, shape and workmanship. Price of such particular tank is calculated on the base of the tank size and intricate shape.
Each tank contains a plastic shaft provided with a cover having a possibility of locking. Tank inner space is provided with plastic footrests for inside cleaning and maintenance and tubular stiffeners to avoid a tank deformation due to compression of surrounding soil and/or ground water.

 
Septic tanks
 
Tanks for collecting wastewater from residential buildings having no sewer connection or local wastewater treatment plant. Septic tanks are mostly made of 20 mm plastic and their sizes are customized to requirements of customers.
Measuring objects
Measuring objects are a part of technology of large-scale water treatment plants. They are used to measure water passage through the equipment in question. They can be made both of plastic and of rust-resistant steel.
Valve chambers
Valve chambers are a unified functional unit. It is a plastic tank equipped with necessary instruments – water meter, shut-off valve of water inflow, pipe coupling, pipe coupling for distribution piping. and, if need be, even a water pipe for the connection above a terrain. The chambers are provided with manholes for the inspection of water meter reading.
Pump sumps
Pump sumps are made of different sizes for pumping rain and waste water. Can be provided with mechanical pre-cleaning facilities (bar debris trap with manual or electrical control, screen). Pumps are positioned on special rust-resistant or hot galvanizing switching facilities enabling the pump handling even when the sumps is flooded. The switching facility also serves as discharging pipe.